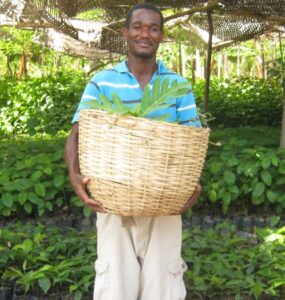 Support Our Mission
We can't do our work without you!
Established in 2008, Trees That Feed Foundation has planted over 300,000 fruit trees to farmers and delivered over 1,000,000 meals to schoolchildren. We work in 20 countries in the Caribbean, Central America and Africa.
Your financial support helps to continue our mission to plant fruit trees, feed people, create jobs and benefit the environment.  We use your money very carefully.
$15 funds a robust breadfruit tree that can feed a family for 50 years or more

$60 per month provides breakfast to a school classroom twice a week
$150 provides 60 pounds of breadfruit flour about 500 meals for a school
$180 provides coloring books and a teachers manual for a basic school classroom

$750 funds a training seminar in tree care for local farmers or a cooking school

$2,000 provides equipment to a community for processing breadfruit flour

Any amount is appreciated!
TTFF is a public charity under tax code section 501(c)(3). Your contribution is tax deductible.
TTFF is creating food independence, building markets, creating jobs and benefiting the environment. We hope to plant one million food-bearing trees in the upcoming decade.